How do we narrate our experiences? What is the distance between reality and fantasy? These are the questions that run through the exhibition "Recovering Stories, Recovering Fantasies", curated by Diana Wechsler, and displayed until December 30 at the National Museum of Riyadh, capital of Saudi Arabia, as part of the BIENALSUR 2019 program. We invite you to visit all the works in the exhibition.
. Flags of the end of the world - Christian Boltanski (FRA), Voluspa Jarpa (CHL), Magdalena Jitrik (ARG)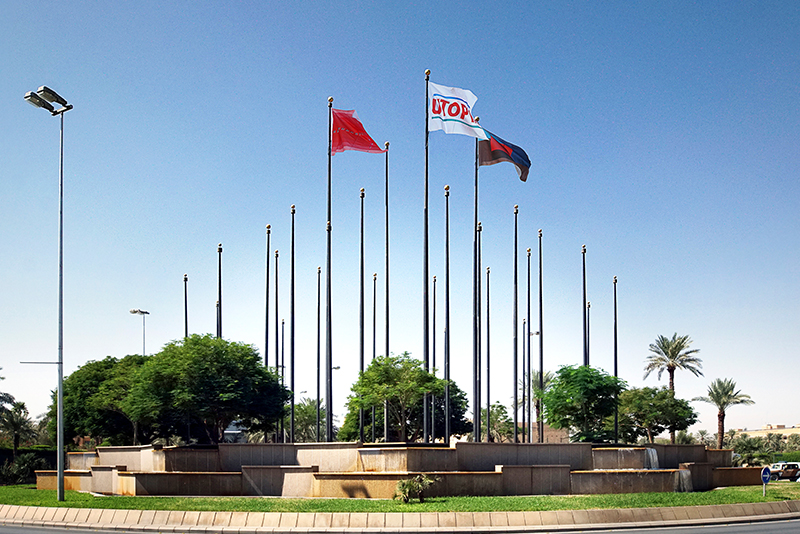 Three monumental banners propose a series of utopian images, as emblems of imaginary nations or, better still, of territories without frontiers. The Banners of the End of the World were intervened by artists, on the basis of the project "Draw me a flag" promoted by Christian Boltanski for the Cartier Foundation.
. The silence of the sirens - Eduardo Basualdo (ARG)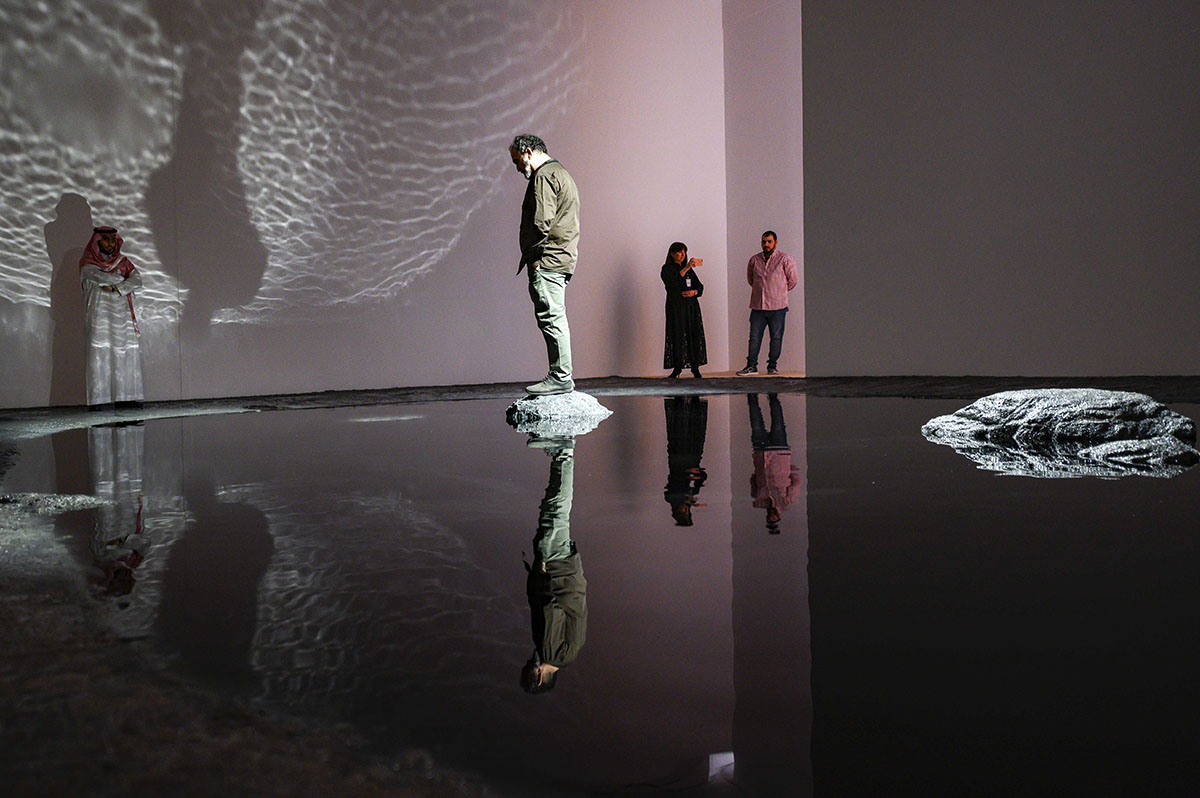 An enigmatic installation that includes a kind of artificial lagoon whose waters flow and drain, in a cyclical way; the spectator can walk around, in an alert state, jumping from stone to stone. A proposal whose title pays homage to the homonymous book by Franz Kafka.
. Little Talk – Pablo Reinoso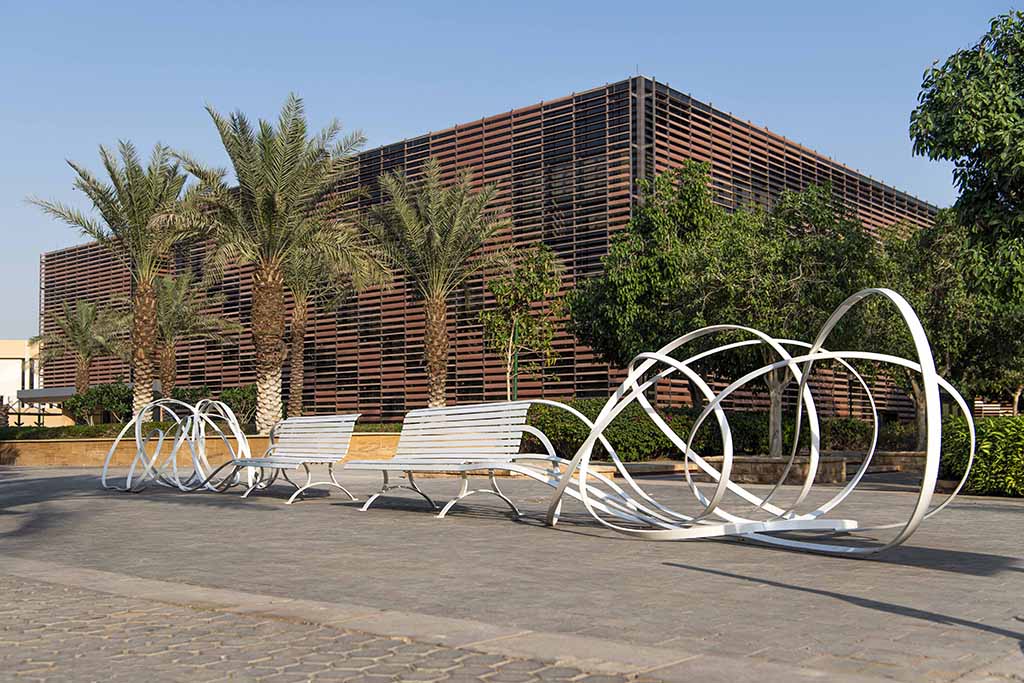 The famous "Spaghetti Benches", by Argentinean artist Pablo Reinoso, present a series of benches located in the public thoroughfare, which are intertwined in a poetic way and which propose a place of encounter and daily conversation.
. Without pedestal and without medals - Betsabeé Romero (MEX)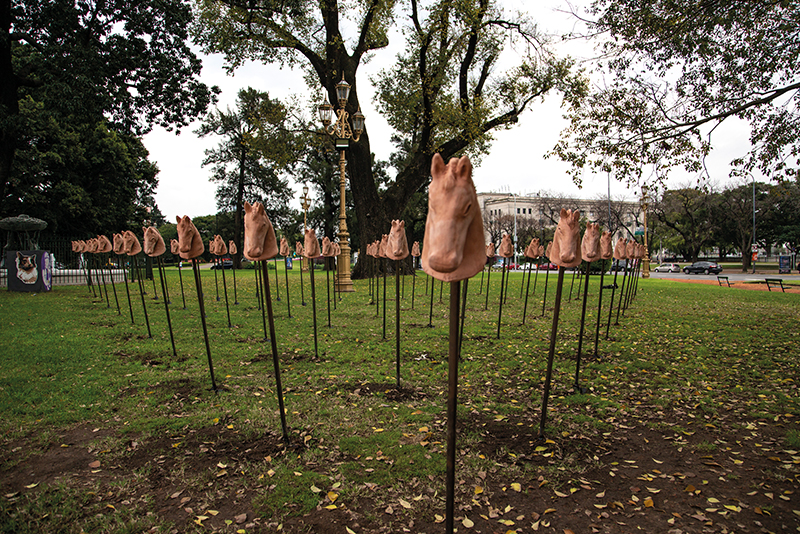 Contrary to a long history of equestrian sculptures in parks and public spaces, Mexican artist Betsabeé Romero designed an army of 60 heads of ceramic horses, on sticks, an evocation of childhood games and countless historical narratives.
. Mundus Admirabilis - Regina Silveira (BRA)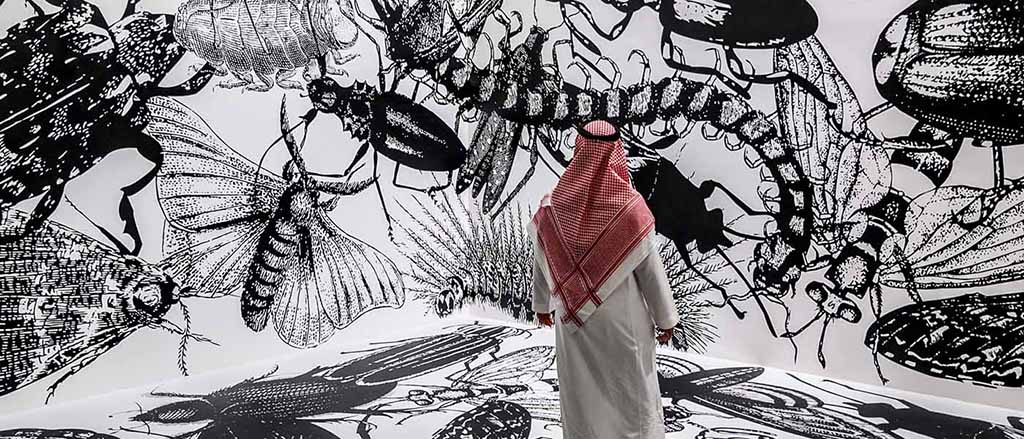 A disturbing intervention by Brazilian artist Regina Silveira. On the walls, ceilings and doors of a glazed room live images of giant insects, disproportionate and incompatible species, which seem to cohabit in magnificent isolation.


. Drought and Shade - Makoto Azuma (JPN)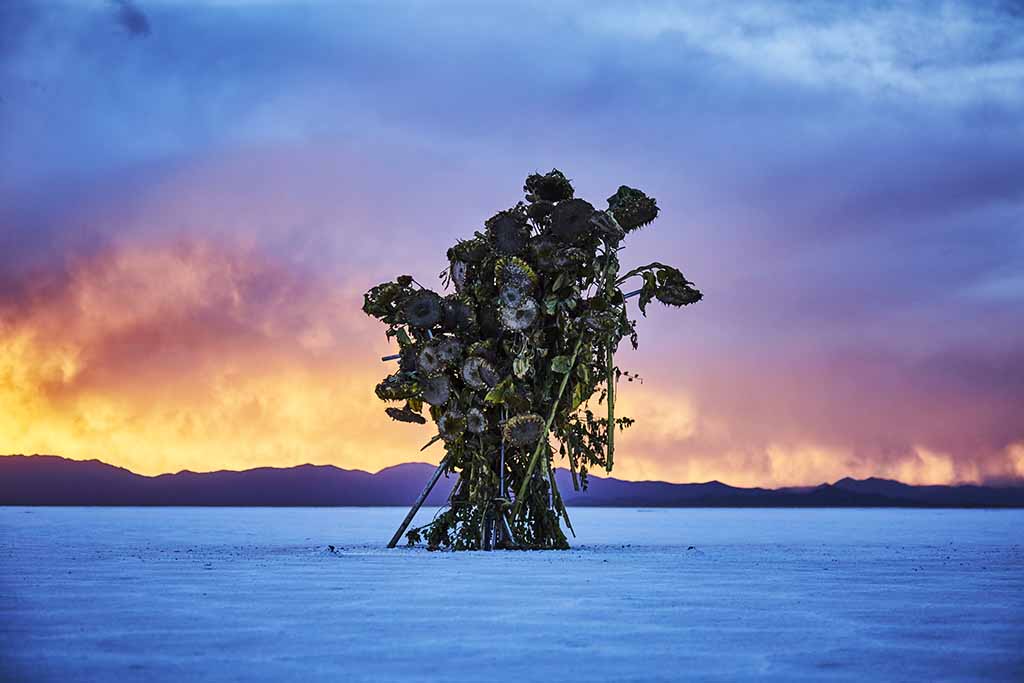 Japanese artist Makoto Azuma created a sunflower sculpture in the desert Salar de Jujuy, Argentina. He waited a year to see how, in the salt flats, the sculpture became a flower of salt: a metaphor of life and death, of resistance and fragility.
. Soleil Noir (Black Sun) - Laurent Grasso (FRA)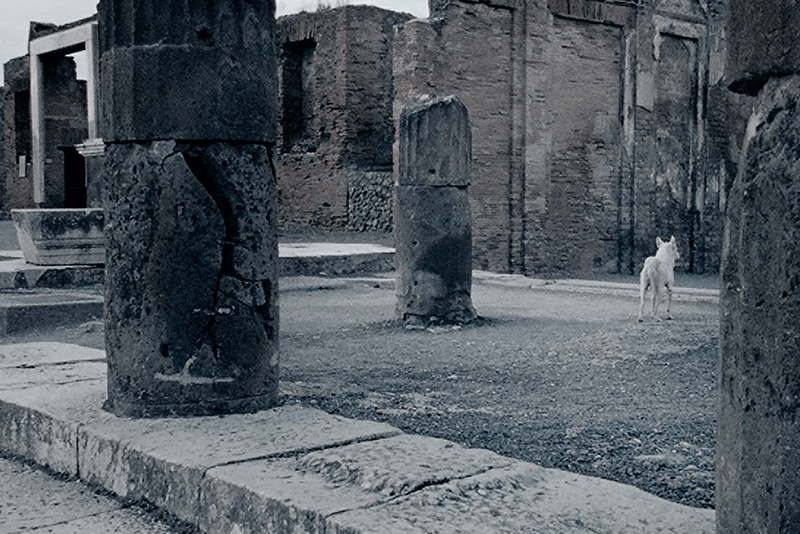 A 16-millimetre film created by French artist Laurent Grasso casts shocking images from a drone flying over Pompeii's deserted alleys and the threatening heights of Stromboli. Accompanied by a hypnotic soundtrack, the film evokes an abstract time and reflects on the artificial and the natural.
. Azal - Ayman Zedani (SAU)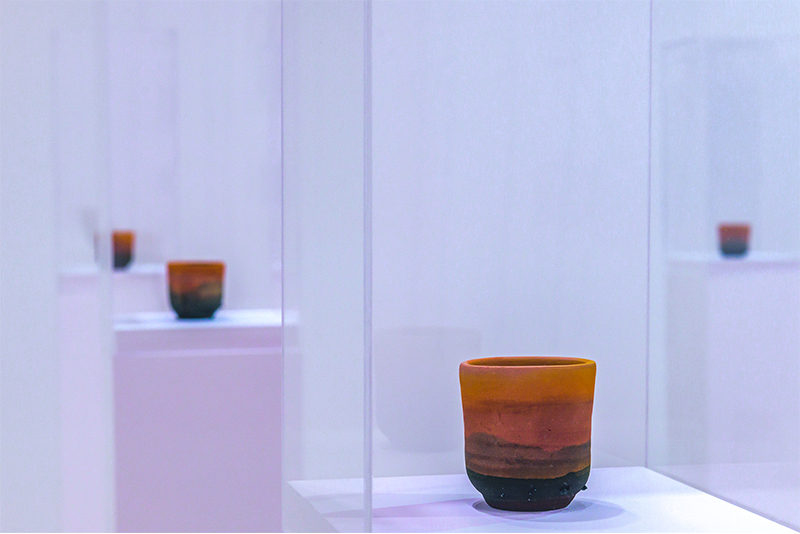 The Saudi artist Ayman Zedani presents an installation composed of dozens of ceramic vessels in which he slowly pours a series of inks, which in turn dye and provoke changes in the appearance of each one of them. In this way, no two vessels are identical, and in their transformation each one acts as a record of the passage of time, as if it were possible to encapsulate that moment.
. Tapestry, footprints in the territory - Paola Monzillo (URY)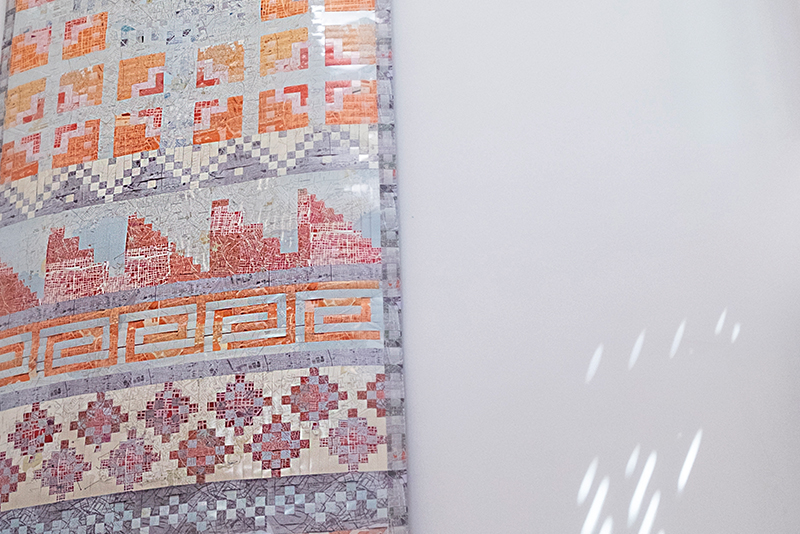 Un tapiz hecho a mano con mapas de ciudades latinoamericanas, cortados y unidos entre sí a través de la técnica del telar manual. Una suerte de recreación del pasado y el presente, de memoria y olvido, revelando las formas en que el tiempo se superpone y se reescribe en el territorio, como un palimpsesto.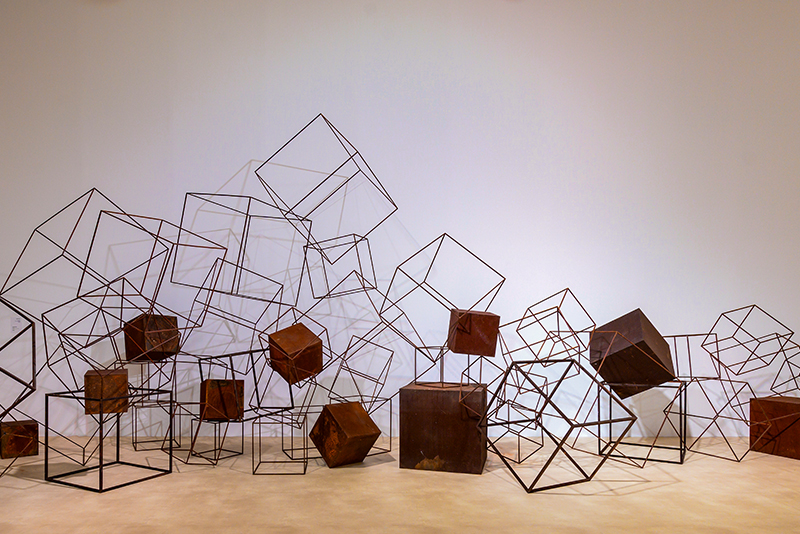 Taking empty space as a kind of substance to be sculpted is what the Brazilian artist José Bechara proposes in his installations. Light, whether natural or artificial, casts shadows on the walls and floor, thus extending the territories or graphic forms of the pieces to the exhibition hall.
. Drawing machine - Marco Maggi (URY)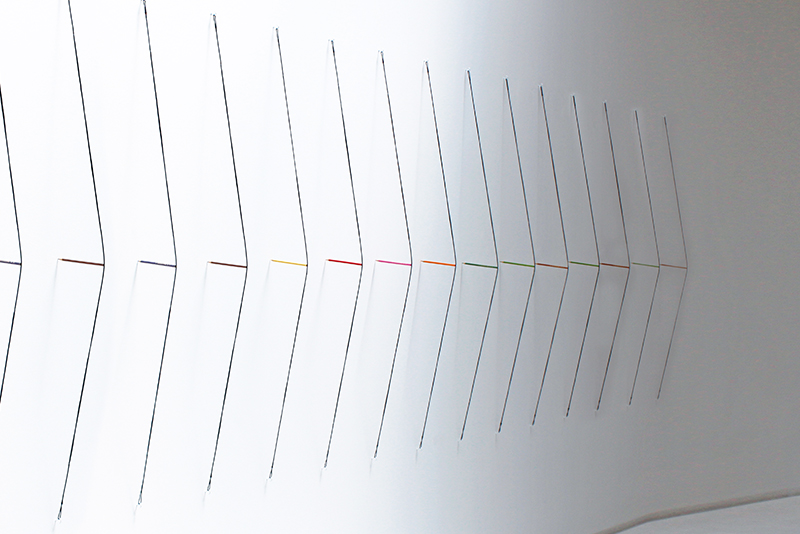 The Uruguayan Marco Maggi evidences in his productions a fondness for artistic alchemy, transforming the simplest or most fragile things -from scissors and aluminum foil to office paper and colored pencils- into works of poetic metaphors and unexpected humor.
. The grip of Hope - Faisal Samra (UAS)
In this interactive installation the viewer must take a fragment of sun-dried clay, clench it with a closed fist and place it to dry on the wall of desires, a metaphorical gesture to preserve the essential elements of life: water, earth, sun and air.
. Mornings of Hope - Sarah Abu Abdallah (UAS)
What remains of memories and encounters when their visual reference is removed from context? It is the question that runs through the work of Saudi artist Sara Abu Abdallah, fragmentarily combined texts and images that refer to transience and moments of anxiety in a rapidly evolving world.
. A blink of an Eye - Fatima Al-Banawi y The Other Story Project (SAU)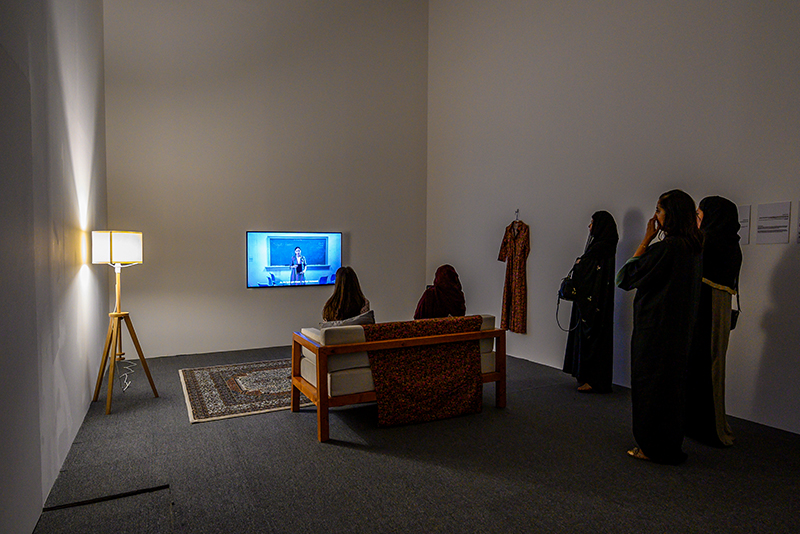 Thousands of anonymous, handwritten stories make up the video installation "A Blink of an Eye". In an attempt to revive the famous Arab oral tradition, the artist invites the public to a theatrical show that traverses the spheres of the public and the private, from real-life narrations of street people, anonymous, which she then turns into creative productions.
. We are the limit of all things - Mariana Telleria (ARG)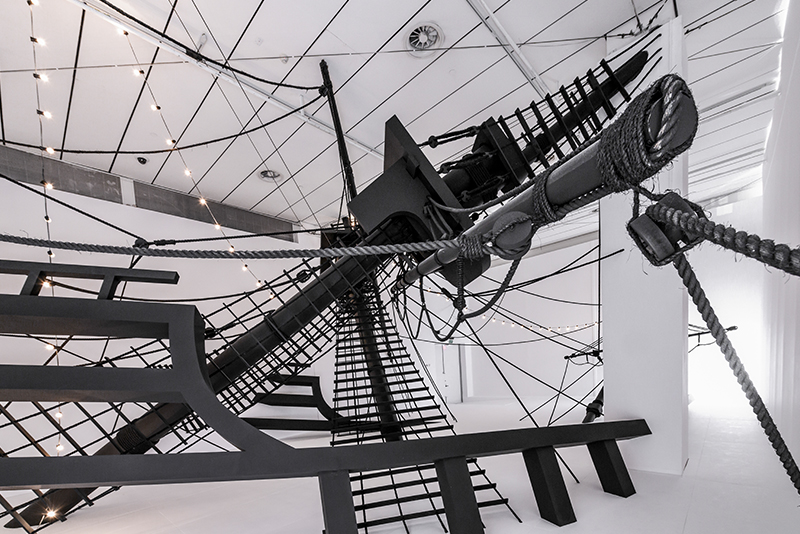 The skeleton of an immense ship, anchored in the hall, reveals the exact moment when that monumental structure crumbles, in an imminent disaster. Or is it evidencing the moment of its appearance, after a sinking? The installation "We are the limit of things" defies all logic and offers only one certainty: it is the spectator who decides.
. T4 of the M2 series - Graciela Sacco (ARG)
The video installation by Argentinean artist Graciela Sacco (1956-2017), "T4", was shot in the Madrid terminal of the same name and shows the shadows of people walking in an infinite loop. The work develops in a continuous present: it imposes itself in space and requires active spectators capable of probing the place at every step.